Top 5 Reasons For Buying Our Database
This doctor database is a complete list of physicians, dentists, and nurses in the U.S. as of Feb 06, 2019. It includes postal addresses, fax and phone numbers starting at $19 per database.
100% Accurate and Complete

This database is obtained from a federal agency where doctors and other medical professionals register for their license.
Unlike the American Medical Association database, physicians cannot opt out of our source data because it is collected from the most authoritative agency within the federal government.
Because our U.S. Healthcare Provider Database is complete and accurate it is ideal for medical marketing by direct mail, phone or fax.
Unlimited Updates
Buy now and download instantly. Your private link for downloading the database can be used as many times as you please.
There are no limits to the number of downloads and the links for the purchased databases do not expire.
You get the basic professional information on virtually every licensed physician in the United States updated monthly at no additional cost.
Easy to Use Format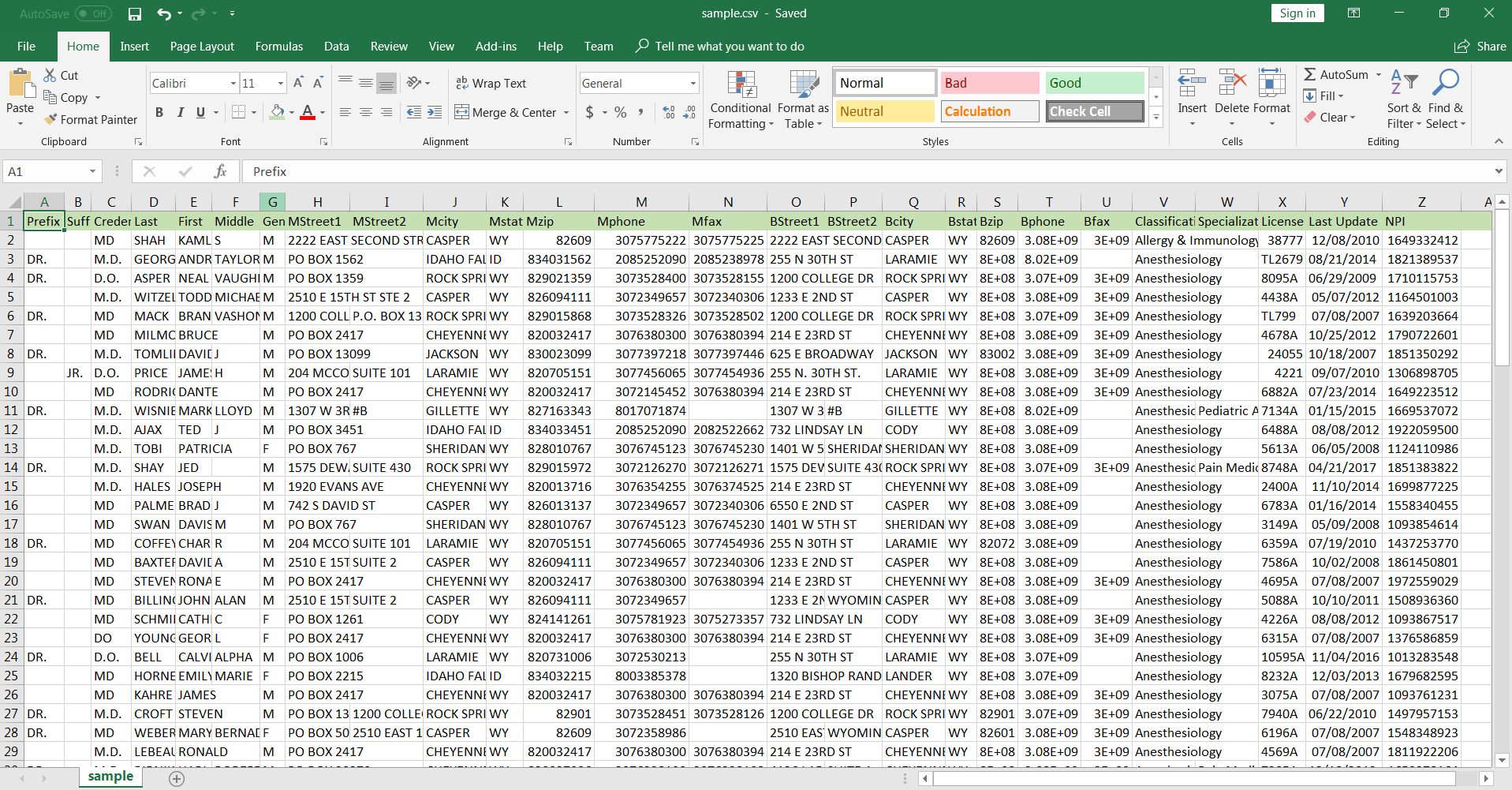 Each doctor database is stored in a widely popular CSV format. This is a text based file which can be opened by many applications.
For example, you can use Excel and filter the data to make your own targeted lists of physicians.
Purchase a complete national database or choose a specific state such as California Doctor Database*.
Up-To-Date Medical Sales Leads

Our data is updated monthly. This means we get new as well as updated doctor information as it becomes available.
Health Care Sales Leads with practice addresses and business mailing addresses, plus telephone and fax numbers and more.
Provider Taxonomy Codes are available upon request.
Our healthcare database contains over 4M records. We can provide lists of other medical professionals such as dentists, nurses, therapists, pharmacists, or dieticians. Databases of Hospitals and other Health Care Facilities are also available by request.
Complete Marketing Solution

We have partnered with Lob, a software platform that automates post mail. No more printing and folding thousands of flyers and stuffing envelopes. We do all the work for you thanks to integration with the Lob's software platform. Order your database, tell us who to send letters to and what to write to your client. We'll do the rest.
You can also download our database sample here before making a purchase.
* If you are not interested in purchasing a full database of medical practitioners we suggest you use the NPI Registry Search.